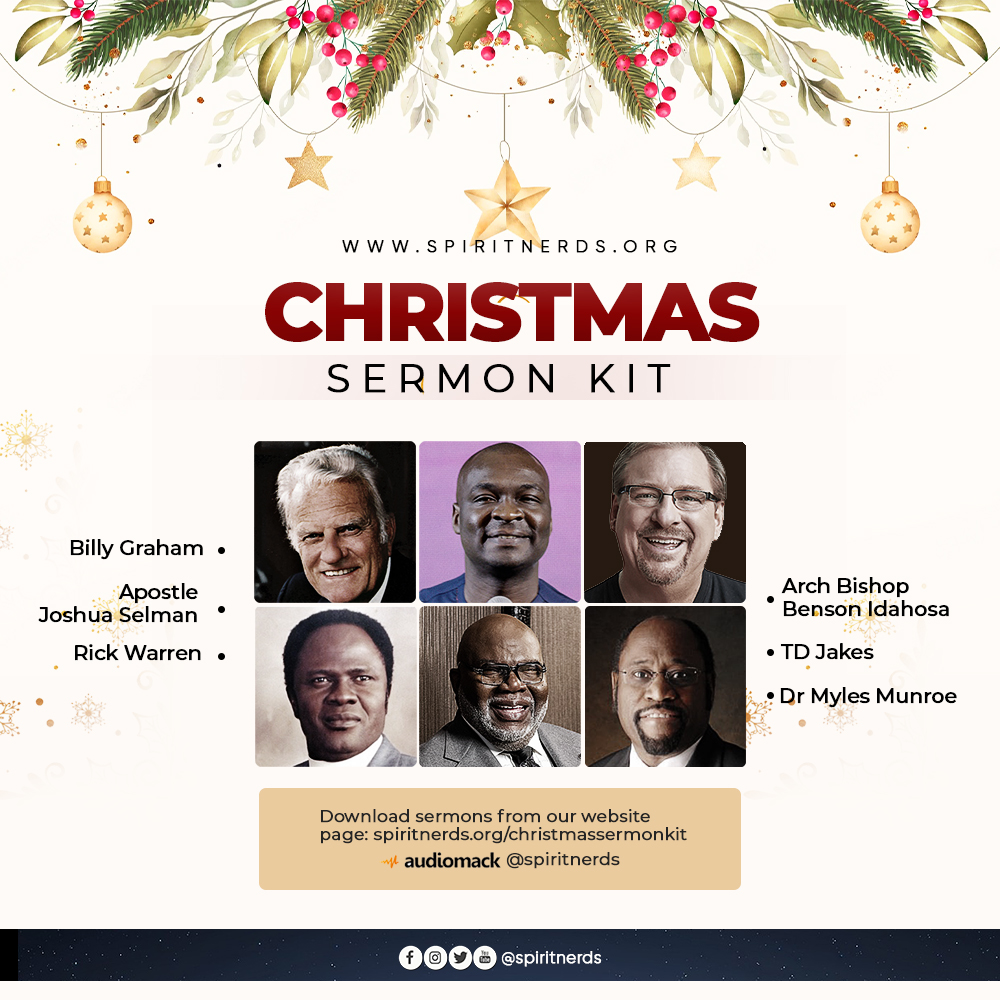 "For unto us a child is born, unto us, a son is given: and the government shall be upon his shoulder: and his name shall be called Wonderful, Counsellor, The mighty God, The everlasting Father, The Prince of Peace." Isaiah 9:6 KJV
As we celebrate this season, may it serve to remind and assure us of God's steadfast Love; giving His only begotten Son; Jesus Christ – the Light of the world, who came to guide us out of every darkness into victory and continues to do so even till this day.
Christ is the reason for the season. Rejoice in your salvation and extend the Love of Christ today.
| Christmas Sermon Kit | Click Here: |
| --- | --- |
| Christmas Message – Billy Graham | DOWNLOAD MP3 |
| The Original Purpose Of Christmas – Dr. Myles Munroe | DOWNLOAD MP3 |
| Learn About The Purpose of Christmas – Rick Warren | DOWNLOAD MP3 |
| For Unto Us – Bishop T.D Jakes | DOWNLOAD MP3 |
| The Significance of Christmas – Apostle Joshua Selman | DOWNLOAD MP3 |
| The Hope Of Christmas – Archbishop Benson Idahosa | DOWNLOAD MP3 |
Spirit Nerds is Africa's Largest And Most Trusted Christian Online Library with over 10,000 sermons and best preaching messages in it's audio form.
Our mission is to equip Christians with strategic Spiritual materials to renew their minds and to live gospel lives unto the measure of the stature of the fullness of Christ.
Spirit Nerds is the best sermon research site in Africa. Over 100 new sermons are added every week; searching for materials is easy; You can't find some of your choice sermons? We have a live chat button to help you get the best of our site. Access to 100% of the sermons is totally free!
Within 3 years of Ministry, Spirit Nerds has been a blessing to over 24 million Christians from over 120 countries of the World. Join in and learn about God and His Word.
Quick Links - Download Sermons