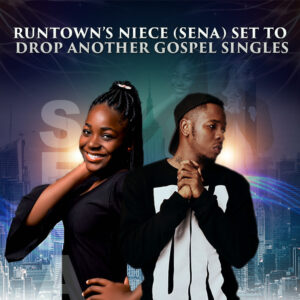 RUNTOWN's NIECE (SENA) SET TO DROP ANOTHER GOSPEL SINGLES
Douglas Jack Agu better known by his stage name Runtown, is a Nigerian singer, songwriter and producer. His niece Sena is set to drop another beautiful gospel worship singles "EXTRAVAGANT GRACE"
Sena Gold Abwa A.k.a Sena, born December 16th, 2004. is the founder and President of 'Praise Marathon International'(a ministry of teenagers which seeks to raise an army of teens for Christ for the end time agenda). She started Praise Marathon International(P.M.I) an online tenage girls ministry on the 16th of December 2017 after graduating from school of ministry in 'Faithway Bible college' in 2016. She is a member of ' Faithway Gospel Ministries', and is currently the worship leader of her church. She started leading worship in her church at a tender age of 10.
She has written and composed over 100 songs, 17 of which have been produced. She launched her debut single 'Carry All Dey Go' two years ago. Her first gospel CD 'Too good to be true', which also has a track dedicated as a prayer for Leah sharibu, was launched on the 27th of July 2019.
She has completed the work on her second gospel CD 'Extravagant Grace', soon to be released, this track 'Blessing In The Storm' already released early this year, is one of the many tracks on her soon to be released gospel CD( Click on the link to listen to blessing in the storms on all digital stores
https://distrokid.com/hyperfollow/sena3/blessing-in-the-storm
). Sena sings with a passion, to bring down the glory of God. Sena is a rare gem. Aside ministering to teens through her videos on Instagram and Facebook, she writes and composes her own songs. She is a high school senior, due for college/University in 2020. She aspires to read Pharmacy.
She enjoys singing, dancing, acting, playing musical instruments, swimming, and playing volleyball. Her motto in life is; 'With God all things are possible'.
Although, RUNTOWN is a circular musician, one thing is for sure, music runs in the Family
CONNECT WITH SENA VIA:
Facebook: sena
Instagram: @_senamusic
YouTube: Sena Music
contact: +234 813 823 0521